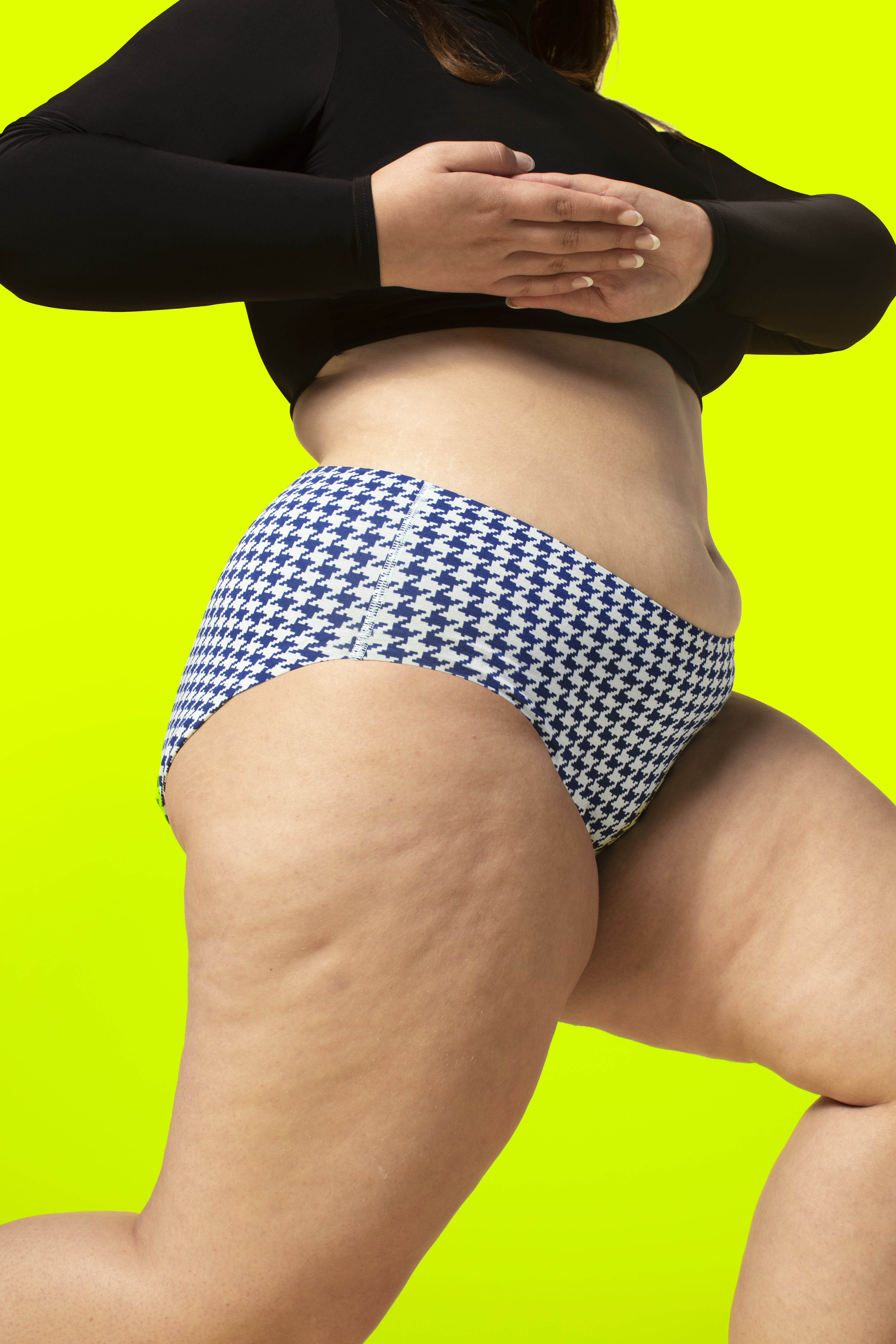 ︎ Client: Thinx, Inc.
︎ Campaign: Modal Houndstooth Pattern Launch
︎ Year: 2021

︎ Art Direction: Lauren Renner
︎ Photography: Shana Trajanoska
︎ Photo Assistant: Ragan Henderson
︎ Lighting: Zach Smith
︎ Hair & Makeup: Emma Elizabeth
︎ Hair & Makeup Assistant: Michelle Ramirez
︎ Creative Production: Khira Goins-Paxton
︎ Production Assistant: Doris Abaiweh




Small color launches for existing Thinx styles presented fun opportunities to experiment creatively. The lower budgets that were typically reserved for these shoots called for bare bones productions with quick turnaround times. The question was: could we make a tight concept that could be executed effectively with minimal resources? In this case, the answer was: yes.

When looking at the blue Modal Houndstooth print through squinted eyes, the pattern subjectively looks pixelated. Yet, the houndstooth pattern has existed for centuries with profoundly historic roots. Was there a way for us to reference a portion of the past while progressively moving into the future? From this line of thinking, the "Digital Get Down" concept was born as a playful callback to the 90's, with an edge of futurism. The presentation of our blue houndstooth underwear against a neon yellow backdrop referenced the bright, poppy color contrast of the 90's. Sleek, contoured wardrobe silhouettes and poses that focused on geometry, symmetry, and suspended movement were inspired by one of our team's favorite films, "The Matrix." Deadpan facial expressions with direct eye contact and low camera angles were incorporated to help the presence of our models feel both powerful and surreal.

Our casting was perhaps the most important component of this art direction. We took the opportunity to feature a range of body shapes, sizes and abilities, and frame them as uniquely powerful and futuristically advanced. Jovanna leapt flawlessly through the air without ever breaking eye contact. Kiara contorted her bionic form in ways that seemed to defy gravity, and Jules - in her modeling debut - harnessed the powers of confidence and symmetry in full force.